Cockroach Removal - Lake Nona, FL
Cockroach Control & Removal Services in Lake Nona, FL
Are you in need of cockroach control and removal services for your home in Lake Nona?
Few pests in the Lake Nona area are as revolting as cockroaches. These disgusting bugs infiltrate our homes and businesses looking for food and shelter. A fully-stocked kitchen is a goldmine for cockroaches, who can contaminate food with bacteria and allergens. Cockroach droppings smell disgusting and can also transmit diseases such as cholera and salmonella. 
If you need cockroach control and removal services to tackle an infestation on your property in Lake Nona, enlist help from an experienced pest control company.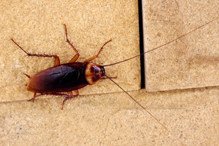 Reliable Cockroach Control
At Termite Lawn and Pest, we can free your home in Lake Nona from the grip of a cockroach infestation. Our team will inspect your property to determine how large the infestation is and where they're hiding on your property.
Our specially trained technicians are experts on cockroach behaviors and life cycles. This allows us to use effective, targeted treatments to eliminate the infestation. Our arsenal of pesticides includes gels and sprays capable of reaching the cockroaches wherever they're hiding in your home in Lake Nona.
Protecting your home in Lake Nona against cockroach infestations throughout the year can be a tall order. Thankfully, the technicians at Termite Lawn and Pest can perform regular pest inspections and treatments. We can also install cockroach exclusion devices and treatments to stop these revolting bugs from sneaking into your home.
Lake Nona's Leading Cockroach Control Services