Kissimmee Termite Control
You never want to tackle a termite problem on your own due to the fact that you must get rid of all of them. This is a non-negotiable fact if you want to prevent further damage to your valuable home or business. Termites can quickly affect property values, making finding and securing the best
Kissimmee termite treatment
service an absolute necessity to preserve that value. You have a true ally in your war on termites in Termite Lawn and Pest. See some of our other
programs
.
KISSIMMEE TERMITE CONTROL
Preserve Your Property Value by Securing the Best Kissimmee Termite Control
There is an abundance of termites in the central Florida and Kissimmee Florida areas because of the ideal weather, virtually unlimited food sources, damp conditions, and a lot of homes and businesses in the area. Termite's invade areas quickly and create an amazing amount of damage in just a short time. The two main types of termites native to the area, Drywood Termites and Dampwood Termites, can eat at least a pound of wood per day, depending on the size of the colony. A smart plan of Kissimmee Termite Control is your best way to keep these destructive invaders from getting out of hand.
Wood is Their Main Food Resource – Kissimmee Termite Control
Termites are mainly looking for wood. Within the wood is the true thing that they hope to feast on, and that's cellulose. They find it not only in the wooden structure of a home, but in wood furnishings, baseboards, wood beams, wallpaper, drywall paper, and even cardboard. Any home that has water near it seeping into the home offers another attraction for termites. Examples of this would be a lawn and shrub irrigation system that is putting water too close to the home structure, or backed up gutters that are retaining water. The effective
termite control Kissimmee
needs is expertly provided by Termite Lawn and Pest. Well-educated and well-equipped technicians know all the nuances of the termites most common to the area. They can find the colonies where they begin, whether the colony consists of a few thousand termites or millions of them. Once termites have found the perfect setup they can use to thrive, they can be tough to get rid of. Experts know exactly how to get rid of termites with a well thought out plan of Kissimmee termite treatment using the latest chemical solutions that are specially formulated to be effective and safe.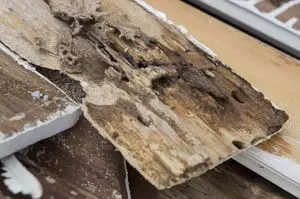 How Termites Become So Destructive So Quickly
Over centuries, termites have developed the ability to be amazingly destructive in a relatively short period of time. Colonies begin with a queen and king. Their purpose is mostly mating and reproducing. The problem is compounded by the fact that there can be multiple kings and queens in one colony. Soldier termites branch out in a star shape, foraging for sources of cellulose and water to nourish the rest of the colony. This extraordinary cooperation keeps termites multiplying and flourishing.

It's critical in any plan of Kissimmee termite control to find the source of termites, their colony, and to destroy not only the full grown termites but also the larvae that are the next generation of termites. You'll need the 1 termite service in Kissimmee with highly trained technicians who know exactly what signs of termites to look for and how to eradicate them.
Signs Termites Can Leave Behind
You'll know you have an infestation of termites when you find signs like wood pellets about the size of grains of rice. Pellets can be in colors ranging from brown to tan, black, or reddish-brown. You may also notice a swarming action, especially at dusk or in the darkness. Termites can swarm near light sources that can include lamps, outdoor lights or even television sets.
Another sure sign of a termite problem is finding wood that appears to be blistered near the surface. This can mean that termites have been tunneling to create uneven wood surfaces. It's always best to leave the solving of a termite problem up to experts who provide termite control & prevention services. The folks at Kissimmee Termite Control know that you want your termite problem solved as soon as possible to avoid more damage than they may have already done.
Professional Service is Best – Kissimmee Termite Control
You never want to tackle a termite problem on your own due to the fact that you must get rid of all of them. This is a non-negotiable fact if you want to prevent further damage to your valuable home or business. Termites can quickly affect property values, making finding and securing the best
Kissimmee termite treatment
service an absolute necessity to preserve that value. You have a true ally in your war on termites in Termite Lawn and Pest. See some of our other
programs
.
AREAS WE SERVICE
:
Altamonte Springs
,
Apopka
,
Avalon Park
,
Casselberry
,
Celebration
,
Chuluota
,
Clermont
,
College Park
, Conway,
Davenport
,
Four Corners
,
Hunters Creek
,
Kissimmee
,
Lake Mary
,
Lake Nona
,
Longwood
,
Maitland
,
Mount Dora
,
Ocoee
, Orlando,
Oviedo
, Poinciana,
Sanford
,
St Cloud
,
Windermere
,
Winter Garden
,
Winter Pa
rk,
Winter Springs
.