Cockroach Removal - Kissimmee, FL
Cockroach Control in Kissimmee, FL
Are you interested in cockroach control services in Kissimmee?
No one likes cockroaches, and for good reason; they're creepy little pests that will invade your home in Kissimmee and contaminate it with harmful bacteria and allergens. Roaches will hide in warm, dark places by day, emerging at night to eat whatever they can find in your kitchen. They'll scatter feces all over your house in the process, creating an overpowering musty odor.
The bacteria which cockroaches may spread to your food can cause salmonella and dysentery. Having a roach colony in your home will also trigger the symptoms of those with asthma and various allergies. You'll never be able to eliminate all of the roaches inside your home in Kissimmee by yourself, so hire the licensed cockroach control professionals to get the job done right.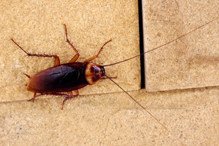 Dependable Cockroach Control
If you discover cockroaches living inside your house in Kissimmee, Termite Lawn and Pest will perform an inspection to find out how big your infestation is and where the roaches have holed up. Our specialists will use safe and effective pesticides, including sprays and gel-based treatments, to remove all of the cockroaches from your property.
Because a future cockroach infestation is likely, we recommend that you set up recurring pest inspections and treatments with our crew to keep your home in Kissimmee protected.
The Top Cockroach Control in Greater Orlando
If cockroaches form a colony inside your home, it's only a matter of time before someone gets sick. Give Termite Lawn and Pest a call today for the greatest cockroach control services in the Kissimmee area!