Cockroach Removal - Davenport, FL
Cockroach Control in Davenport, FL
Is your property in Davenport struggling with a cockroach infestation?
Cockroaches are an all-too-common household pest in the Davenport area. Whether dwelling in your attic or crawlspace or hiding in your kitchen pantry, cockroaches must be removed and excluded to ensure a safe and healthy environment. If you are tired of dealing with roaches on your property, consult our pest control experts today for the most reliable solutions.
Trusted Cockroach Control
Termite Lawn & Pest is one of Central Florida's most dependable pest control companies, as we have a long history of success against cockroaches and all other pests. If your cockroach infestation in Davenport has become too much to handle, or you just want to stop it before it worsens, you have come to the right place.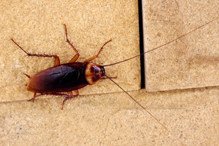 We will schedule an appointment with you at your earliest convenience to visit your home in Davenport and conduct a complete inspection of your property. This is done so we can determine how many roaches there are, where they are, and the best way to remove and prevent them. Our company uses industry-leading cockroach control products to ensure the infestation is promptly and completely eliminated. Then, our team will employ cockroach prevention services to ensure these pests can never regain entry to your home.
Davenport's Best Cockroach Control Company
It's never been easier to solve a cockroach problem, so if you need help, we want to hear from you ASAP. Speak with Termite Lawn & Pest today for exceptional roach control services in the Davenport area!