Cockroach Removal - Chuluota, FL
Cockroach Control in Chuluota, FL
Are you trying to eliminate roaches from your home in Chuluota?
Cockroaches can be a very frustrating household pest to deal with, and they can also be extremely unsettling to see scurrying around places like your kitchen and bathroom. Whether you have spotted a few cockroaches or many, the most effective way to eliminate them is by enlisting the help of a qualified pest control technician in Chuluota.
Quality Cockroach Removal Solutions
Termite Lawn & Pest is here to help you remove and prevent cockroaches from your property in Chuluota. Our friendly and skilled pest control team will visit your property for an in-depth inspection to identify the extent of your roach infestation and possible causes of the problem. We will work closely with you to select the ideal roach control plan for your needs.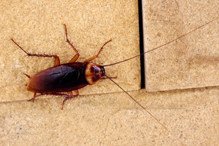 Our cockroach treatments include gels, sprays, and other environmentally safe yet effective roach control products to eliminate the existing roaches and prevent infestations from recurring in the future. Once all cockroaches are removed from your home in Chuluota, our pest specialists will seal roach access points on the building's exterior and set high-grade deterrents so these nasty insects will never be allowed to enter your home again. 
Chuluota's Finest Cockroach Control Company
Our cockroach control will allow you to enjoy your home without worrying about roaches scurrying around every corner. Get in touch with Termite Lawn & Pest today for unmatched roach control services in the Chuluota area!