Cockroach Removal - Winter Park, FL
Cockroach Control & Removal Services in Winter Park, FL
Do you require cockroach control and removal services in Winter Park?
Cockroaches are one of the most reviled pests in America, and with good reason. These repulsive insects sneak into homes in Winter Park to eat our food and spread diseases like cholera and salmonella. Cockroaches can multiply quickly and trigger allergic reactions and asthma attacks. Their droppings also create a musty stench that lingers around your home.
To tackle the cockroaches on your property in Winter Park, bring in the cockroach control masters from Termite Lawn and Pest.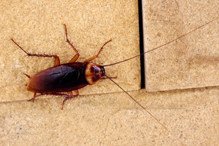 Effective Cockroach Control & Removal
At Termite Lawn and Pest, our experts can eliminate cockroach infestations quickly and safely. We begin with a full inspection of your home in Winter Park to determine the scale of the colony and where the pests are located. Our technicians are experts when it comes to cockroach behavior, allowing us to target roaches effectively and efficiently. Using gels or sprays, we deploy our array of pesticides to kill the cockroaches quickly.
Scheduling regular pest inspections with our dedicated specialists is the most effective way to defend your home in Winter Park against cockroaches throughout the year. We can also install cockroach exclusion measures and treatments to prevent these insects from being attracted to your property.
The Leading Cockroach Exterminators in Winter Park
Once they've infiltrated your home, cockroaches can become a major menace. Call Termite Lawn and Pest today for the top cockroach control services in the Winter Park area!