Cockroach Removal - Windermere, FL
Cockroach Control & Removal Services in Windermere, FL
Are you looking for cockroach control and removal services in Windermere?
Cockroaches are revolting pests that can consume your food stores if they break into the kitchen of your home in Windermere. Cockroaches can also contaminate food with nasty diseases like cholera and salmonella. The presence of cockroaches may also cause allergic reactions or asthma attacks, and their droppings create a horrible musty odor that can spread throughout your property.
To remove disgusting cockroaches from your home in Windermere, enlist the help of the cockroach control and removal specialists at Termite Lawn and Pest.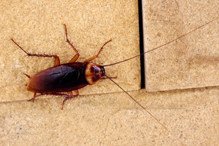 Dependable Cockroach Control
The licensed pest control technicians at Termite Lawn and Pest can liberate your house in Windermere from cockroach infestations. We start by inspecting your property to see how many cockroaches there are and where they're hiding. Our team then applies our pesticide treatments, usually in the form of gels or sprays. Our specialists know their enemy inside and out, allowing us to target the infestation quickly and effectively.
To defend your home in Windermere against cockroaches all year round, it's a good idea to schedule regular inspections with our pest control specialists. To beef up your defenses even more, our dedicated team can install cockroach exclusion measures and treatments to deter these bugs from nesting.
Windermere's Best Cockroach Control & Removal Services