Cockroach Removal - Oviedo, FL
Cockroach Control & Removal Services in Oviedo, FL
Do you need cockroach control and removal services in Oviedo?
Cockroaches are revolting insects that crave the shelter and easy pickings of our homes. If cockroaches get into the kitchen of your home in Oviedo, they can eat through your food stores pretty quickly. To make matters worse, cockroaches can also contaminate your food with deadly diseases like cholera and salmonella.
If you need to eliminate a cockroach colony infesting your house in Oviedo, bring in heavy support from the licensed pest control team at Termite Lawn and Pest.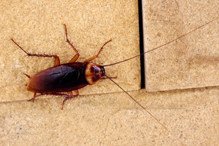 Trusted Cockroach Control & Removal
At Termite Lawn and Pest, our technicians use their expert knowledge of cockroaches to target and destroy these disgusting bugs. During an initial inspection of your home in Oviedo, we'll discover the size of the cockroach infestation and where the pests are hiding. Our specialists can then deploy our lineup of pesticide gels or sprays to target the cockroaches.
The best offense against cockroaches is a good defense. That's why our technicians can perform regular pest inspections to protect your home in Oviedo against cockroaches throughout the year. We also offer a range of exclusion measures and treatments to prevent cockroaches from infiltrating your property.
The Most Effective Cockroach Control Services in Oviedo