Cockroach Removal - Lake Mary, FL
Cockroach Control in Lake Mary, FL
Are you in need of cockroach control services in Lake Mary?
The last thing you want to see when you walk into your kitchen at night is a bunch of cockroaches scurrying to hide. Roaches are dirty pests that frequently infest homes in Lake Mary in order to raid cupboards, sinks and trash cans. As they eat, they produce feces which give off a pervasive musty stench.
When cockroaches scavenge in your home, they will spread bacteria to your food, which may result in such diseases as dysentery and cholera. If enough of them start living in your home, the allergens they bring can cause asthma attacks and allergic reactions. When you need cockroaches removed from your home in Lake Mary, rely upon your local cockroach control professionals.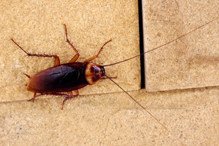 If you're struggling with a cockroach infestation in your house in Lake Mary, Termite Lawn and Pest will inspect your premises to determine how big your roach problem is and where they've been living during the day. Our technicians will work with the treatments that we feel will be most efficient in your home to swiftly wipe out every last cockroach.
The odds of a future cockroach infestation are high but you can prevent the pests from returning in force by scheduling recurring pest inspections and control treatments with us.
Greater Orlando's Most Reliable Cockroach Control
Nothing ruins the cleanliness of your home faster than a horde of cockroaches. Get in contact with Termite Lawn and Pest today for superior cockroach control services in the Lake Mary area!