Cockroach Removal - Hunter's Creek, FL
Cockroach Control in Hunter's Creek, FL
Are you seeking cockroach control services in Hunter's Creek?
Cockroaches are filthy pests that can introduce all manner of germs to your home in Hunter's Creek. Roaches are opportunistic eaters that will scavenge any scraps of food they can find in your kitchen, as well as munching on everything from leather to paper. Their feces give off a musty odor that can be overwhelming if you have a large infestation.
The bacteria which cockroaches spread to your food can cause diseases like listeriosis and dysentery. Having a roach colony on your premises may also trigger asthma and allergies. If you want to thoroughly eliminate your cockroach problem in Hunter's Creek, get help from a licensed cockroach control company.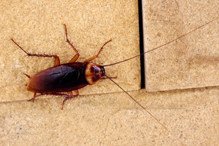 If cockroaches have built a colony inside your house in Hunter's Creek, Termite Lawn and Pest will inspect your property to discover the size of your roach infestation and where the pests are living. Our experts will use the best treatment options for your home, whether it's a gel-based pesticide or a spray, to exterminate all of the cockroaches.
If you want to prevent another cockroach infestation in your home in Hunter's Creek, you should schedule recurring pest inspections and control services with our crew.
Greater Orlando's Most Effective Cockroach Control
Never let a horde of cockroaches overrun your house and make it filthy. Contact Termite Lawn and Pest today for the premier cockroach control services in the Hunter's Creek area!