Cockroach Removal - Clermont, FL
Cockroach Control in Clermont, FL
Would your home in Clermont benefit from cockroach removal services?
From causing food-borne illnesses to exacerbating allergies, cockroach infestations are big problems that should always be managed by a trained professional. If you are struggling with a cockroach infestation on your property in Clermont, Termite Lawn & Pest is here to help with second-to-none cockroach control services.
Effective Cockroach Removal
Termite Lawn & Pest's experienced pest control specialists are ready to get your cockroach control services started today. We will visit your home in Clermont to complete a thorough inspection of the premises, allowing us to gain an understanding of the species of roaches you are dealing with and where they may be hiding on your property.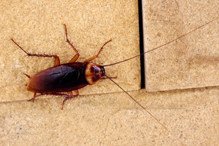 We'll then work with you to identify the adequate action plan for your cockroach control. We use high-grade cockroach control treatments that quickly wipe out your infestation. Once the infestation is removed, we can even clean up after the pests. We can restore damaged insulation and seal roach entry points so they can never get back inside your Clermont home again. Our roach control products include gels, sprays, and other applications that will quickly make your cockroach problem a worry of the past.
Clermont's #1 Roach Control Specialist
We look forward to connecting with you and getting you started on cockroach control which will stand the test of time. Call Termite Lawn & Pest today for excellent roach control services in the Clermont area!