Cockroach Removal - Altamonte Springs, FL
Cockroach Control in Altamonte Springs, FL
Would you like cockroach control services in Altamonte Springs?
Cockroaches are perhaps the most disgusting of all the many pests that live in Altamonte Springs. Roaches are scavenging insects that will eat any of the food they find in your cupboards, as well as other materials such as cardboard and glue. The droppings left by cockroaches produce a strong musty stench that will make your house reek.
If cockroaches live in your kitchen, they will contaminate your food with bacteria and may cause diseases such as salmonella and cholera. They can also trigger asthma and allergic reactions in people. To remove a cockroach infestation from your home in Altamonte Springs, bring in a licensed cockroach control company.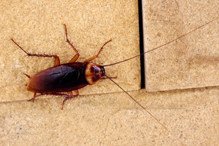 Effective Cockroach Control
If your house in Altamonte Springs has been infested by cockroaches, Termite Lawn and Pest will conduct an inspection to learn how many roaches are in your residence and where they're living. Our technicians will use a variety of pesticides, including gels and sprays, to safely eliminate every cockroach inside your home.
To keep other cockroaches from building a colony within your home in Altamonte Springs, you should schedule regular pest inspections and treatments with our team.
The Best Cockroach Control in Greater Orlando
Unless you eliminate them quickly, cockroaches will multiply out of control and make your home unsanitary. Call Termite Lawn and Pest today for high-quality cockroach control services in the Altamonte Springs area!